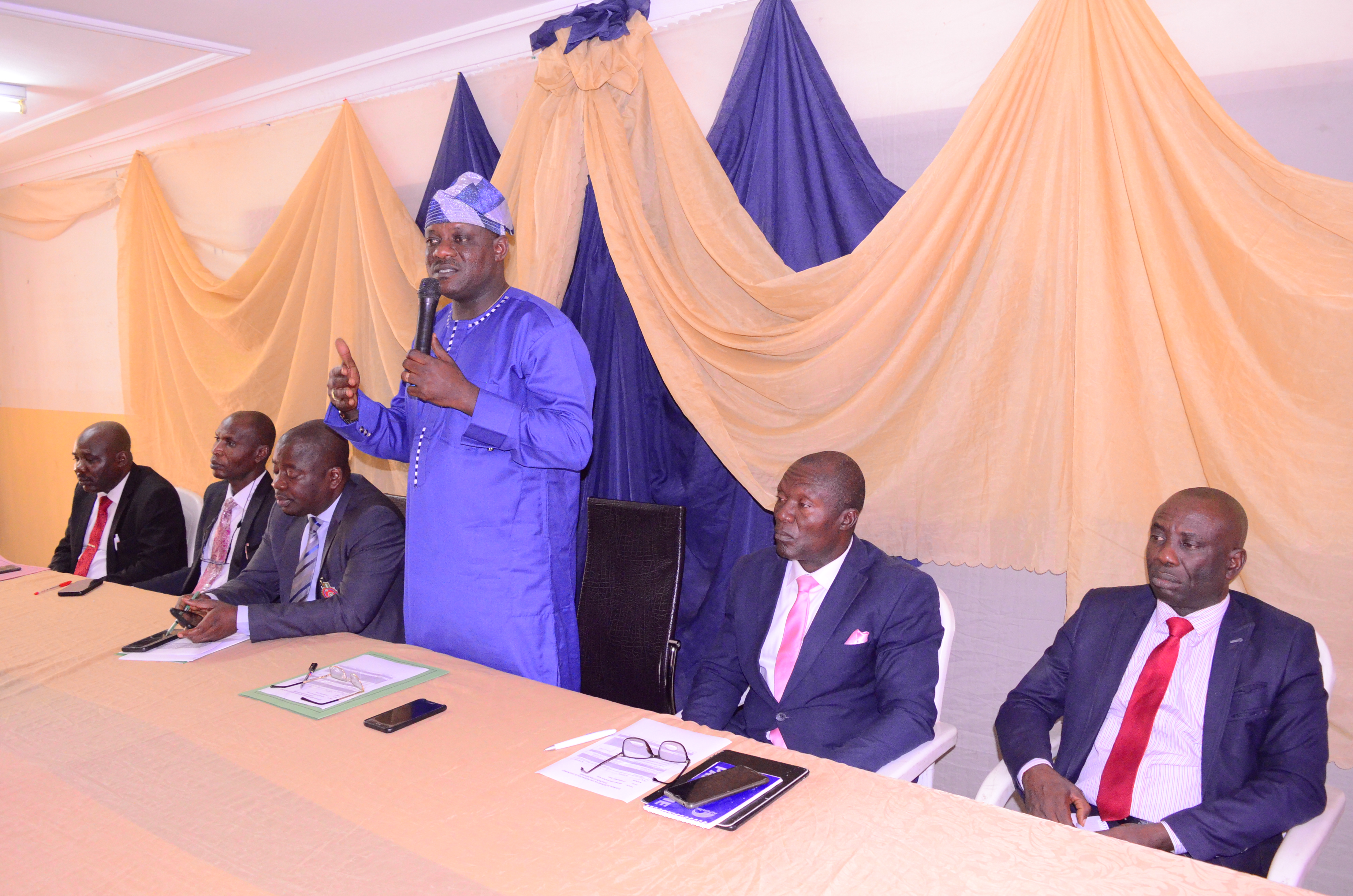 The PS, MEP&B addressing the Planning and Budget Officers during the workshop
Cross section of Participants during the workshop.
Cross section of Participants during the workshop.
Alhaji L.A Lateef Adekunle, Director of M&E and Mr S. Aworere, Director of Budget during the workshop.
The Commissioner for Economic Planning and Budget, Pastor Emmanuel Igbasan has charged Budget and Planning Officers across the State to ensure full disclosure of all grants and credits accruing to the State and timely rendition of returns.
Pastor Igbasan gave the charge during the Technical Workshop on the preparation of 2019 Budget Implementation Appraisal organised for Budget and Planning Officers in the State Ministries/Agencies
According to the Commissioner, full disclosure of all grants and credit  would not only boost the overall budget performance of the State but also help the State to continually meet up with State Fiscal Transparency Accountability and Sustainability (SFTAS) Disbursement Link Indicators (DLI) on Budget Performance and Reporting.
The Commissioner, who describes the Officers as the pillars of economic well-being of the State, encouraged them to always be on top of their job and  to acquit themselves with the policy plan of the present administration.
Earlier, the Permanent Secretary of the Ministry, Mr Bunmi Alade explained that the State was able to sign its 2020  budget in 2019  with the support of stakeholders therefore returning the State budget calendar  to January- December
Mr Bunmi Alade urged the Officers to ensure that their various Ministries and Extra Ministerial Departments improve on their internally Generated Revenue in the face of dwindling Federal Allocation to the State.
The PS who added that the implementation of 2020 Budget has commenced, enjoined them to work closely with their Accounting Officers to ensure strict adherence to the content of the budget.
He, therefore charged  them to  rededicate themselves to service and discharge their duties efficiently while also reminding them to key into the New Public Service Reform Initiative  tagged 'ODSIP' (Ondo Service Improvement Programme) by giving their best at all time.
During his presentation, the Director of Monitoring and Evaluation of the Ministry ,Alhaji Lateef Adekunle explained that the preparation and publication of  Quarterly  Budget Implementation Appraisal is principally in fulfillment of Section 39 sub-section (2&3) and Section 53 sub-section (1) of the Ondo State Fiscal Responsibility Law, (FRL) 2017.
He therefore called on the Officers to ensure that thier Ministries and Agencies returns on 2019 fourth quarter budget implementation are submitted to the Ministry of Economic Planning and Budget before Friday 10th January 2020
Banjo Egunjobi,
Media Manager,
MEP&B.